EISENHARDT supplies barley directly from the cooperatives and main stockers and exporters of Argentina and Paraguay in bulk and containerized cargoes.

A member of the grass family that serves as a major animal fodder, as a base malt for beer and certain distilled beverages, and as a component of varioushealth foods. It is used in soups and stews, and in barley bread of various cultures. Like wheat and rye, barley contains gluten which makes it an unsuitable grain for consumption by those with celiac disease. In a 2007 ranking of cereal crops in the world, barley was fourth both in terms of quantity produced (136 million tons) and in area of cultivation (566,000 km²

Classification

In traditional classifications of barley these morphological differences have led to different forms of barley being classified as different species. Under these classifications two-rowed barley with shattering spikes (wild barley) is classified as Hordeum spontaneum K.Koch. Two-rowed barley with non-shattering spikes is classified as H. distichum L., six-rowed barley with non-shattering spikes as H. vulgare L. (or H. hexastichum L.), and six-rowed with shattering spikes as H. agriocrithon Åberg.
The fact that these differences were driven by single-gene mutations, coupled with cytological and molecular evidence, has led most recent classifications to treat these forms as a single species, H. vulgare L.
Barley was grown in about 100 countries worldwide in 2007. The world production in 1974 was 148,818,870 tonnes; since then, there has been a slight decline in the amount of barley produced worldwide.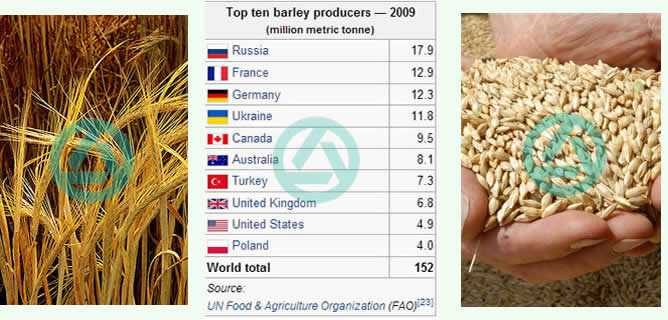 1/1