EISENHARDT Scrap Metals Yards

EISENHARDT ® invites you, jointly with our associates, to visit our scrap yards sited in San Nicolas de los Arroyos, Mendoza and Paraguay.

Argentina has certain export restrictions for scrap materials in order to protect the sources of nationals steel and metallurgical industries. This regulation has been placed on 2009 and modified several times. Therefore all export allocations of each recycable material has to be authorized by the Goverment in order to be exported.

Due to our vast network of recyclers partners, EISENHARDT ® is in position to guarantee long term and sustained quality of delivered scrap material, controlled by our own staff.

We regularly sell scrap metals, Ferrous scraps, NF scraps, steel scraps, Heavy Melting Steel HMS, plate and structural steel PNS, used/steel rails, aluminium / brass / copper / lead / stainless steel scraps, shredded scrap, LMS bundles scrap, steel turning scrap, rotors, WEEE RAEE Ewaste Escraps, plastic scraps, recovered precious metals and other recyclable materials worldwide.

The scrap yards and warehouse units cover an area of approximately 45,000 m2 and its direct deep water access to Buenos Aires, San Nicolas, San Lorenzo or Rosario ports, Argentina, provides an ideal prerequisite for bulk and container businesses.

Helped by modern scrap processing tools and equipments, EISENHARDT optimizes the production according to the needs of our customers. The most modern discharge and loading machinery, as well as a state of the art quality assurance equipment allows for efficient warehousing and above all, a quick stock turnover.



SCRAP YARDS GALLERY

EISENHARDT Recycling welcomes to visit our scrap yards photo gallery. www.eisenhardt-trading.com/scrap-gallery.html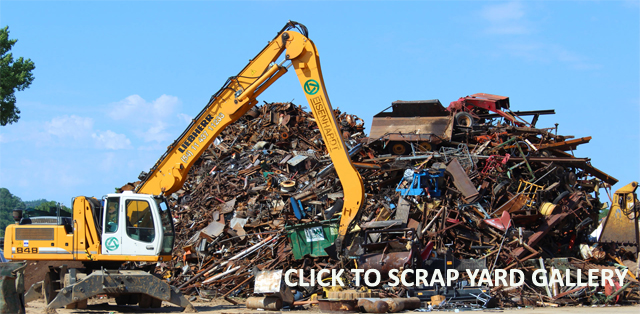 EISENHARDT Scrap Yard San Nicolas



Expand map in GMaps EISENHARDT Scrap Yard Mendoza

GEOGRAPHICS AND LOGISTICS

* Direct access to roadways via highways;

* Direct access to pan-American railroad system;

* Direct access to waterways via Parana river and Rio de la Plata river;

* Direct deep water access via Buenos Aires / San Nicolas / San Lorenzo / Rosario port.


DELIVERIES

Monday - Friday opened from 8:00 - 18:00.
Saturday opened from 8:00 - 13:00.

Customers must schedule a delivery appointment time of at least 24 hours in advance to ensure timely assistance. If you are picking up materials from us, you will also be provided with an appointment time. Please contact us to schedule or confirm an appointment at (54 11) 4371-1233 or (54 9261) 707-6560 or via email to logistic@eisenhardt-trading.com.


RECYCLING

According to the World Steel Organisation, steel is the most recycled material on the planet. In the developed economies, significant volumes of steel scrap are generated from end-of-life products and infrastructure. Data from Bureau of International Recycling, www.bir.org, (BIR) indicates that, on average, more than 500 million tonnes has been recycled every year since 2007.

EISENHARDT is continually sourcing scrap products and reach new yard owners to amplify our source materials range capacity.


BENEFITS OF RECYCLING

Scrap recycling also helps reduce greenhouse gas emissions and conserves energy and natural resources. For example, scrap recycling diverted yearly 500 million tons of materials away from landfills.

Recycled scrap helps keep air and water cleaner by removing potentially hazardous materials and keeping them out of landfills.


QUALITY

In order to produce good quality steel consistently with scrap, a steelmaker requires confidence in the quality and consistency of the scrap used. It must also be in the correct physical form for the steel making process. Scrap is generated in a wide range of physical forms and may contain tramp materials. Effective management and classification of steel scrap will therefore enhance the efficiency of the steelmaking process.

Trade associations in different regions have developed a number of systems for classifying the steel scrap recovered by commercial scrap processing companies. For steelmakers one of the most important factors is consistency. Large variations in quality will result in the production of off-specification steel (or limit the quantity of scrap that can be utilised).

The general requirements for steel scrap are outlined below:

* The metallic content measured in terms of weight per cent of the total mass should be as high as possible.

* The characteristics of the material should be consistent.

* Any contamination should be within the specified levels.

For comprensive scrap materials specifications, you can read official ISRI Codes Brochure here EISENHARDT Recycling ISRI Codes . The offical website of I.S.R.I (Institute of Recycling Industries, Inc.) is www.isri.org

The materials supplied by EISENHARDT are in total satisfaction of our regular end buyers and the quantity and quality loaded can be inspected by any recognized international surveyor Co. such as SGS, Bureau Veritas, TUV-SUM, Alex Stewart or similars.


IMPURITIES

Elements in steel are considered as impurities or alloy elements depending on where in the process the element is added or if it is added intentionally.

Copper in significant amounts is detrimental to hot-working steels. Copper negatively affects forge welding, but does not seriously affect arc or oxyacetylene welding. Copper can be detrimental to surface quality. Copper is beneficial to atmospheric corrosion resistance when present in amounts exceeding 0.20%. Weathering steels are sold having greater than 0.20% Copper.

The elements that have lower oxygen affinity than iron, such as Cu, Sn, Co and Ni, remain in the final alloy. Utilisation of low quality scrap can result in the production of off-specification steel and in addition to the direct impact of this on the steelmaker it could also be considered to be a loss of these valuable elements. To date there exists no economically viable way of removing these elements from steels.


SCRAPS MARKET

In contrast to a wreckers, scrap yards typically sell everything by weight rather than by item.

To the scrapyard, the primary value of the scrap is what the smelter will give them for it, rather than value of whatever shape the metal may be in. An auto wrecker, on the other hand, would price the exact same scrap based on what the item does, regardless of what it weights.

Please note that there is no supplier in the world that is capable of supplying unlimited quantities of scrap of multiples of thousands/millions at rates below international market prices, as seen on internet fake offers.

Typically, if a wrecker can not sell something above the value of the metal in it, they would then take it to the scrapyard and sell it by weight. Equipment containing parts of various metals can often be purchased at a price below that of either of the metals, due to saving the scrap yard the labor of separating the materials before shipping them to be recycled.