Be carefull and avoid SCAMMER FRAUDSTER EXTORTIONIST FAKE COMPANY SKYINTERGROUP.COM managed by PEDOPHILE CRIMINAL SAHIL KAPOOR aka SAM KAPOOR hidden in Vietnam where Justice does not perform.

This criminal was unprofessionally and unresponsably introduced by our ex-EAA member Germany, Vladimir Nuss, vladimir.nuss@vipworldservice.com , from VIP World Service, Nuss Fahrzeugüberführungen and Pheniks Medical Holding GmbH. Mr. Nuss refused to cooperate with us to resolve this problem he caused to EISENHARDT by introducing such criminal without any due diligence and without informing no verifications was done by Nuss on Kapoor.



We hereby inform all our clients that there are FALSE and DEFAMATORY posts on internet about our company, trade mark and good family names.

Responsable person we know is Sahil `sam` Kapoor from Vietnam, Skyintergroup.com / Skyintertrades / Skyintertrade / Skyintergroup / Sky inter group (they use any of these names). Today they had to change their name and web to Skyintergroup ( skyintergroup.com ) because we exposed them with falsified Bill of Lading from Evergreen. He was invited on July 2017 to show his `proofs`, inform his lawyer details and his details in USA in order to resolve this professionally.
<![if !supportLineBreakNewLine]>
<![endif]>
They feel impunity because they `operate` hidden in Vietnam where Justice does not perform. We have asked Kapoor US details as he expressed he is in USA.
They look for promotion, due to their own lack of credentials, by defamating a bona fide company like EISENHARDT, successfully operating since 1977. This criminal company is new just registered on 2016. 

<![if !supportLineBreakNewLine]>
<![endif]>
<![if !supportLineBreakNewLine]>
<![endif]>
We found this about what they do:
<![if !supportLineBreakNewLine]>
<![endif]>
Eisenhardt did never have any business with skyintergroup Skyintertrades Skyintertrade Sahil `sam` Kapoor Vietnam . 
Skyintertrades , Kapoor contacted us via our EX EAA Germany Mr. Nuss, vladimir.nuss@vipworldservice.com, initially using Linked In. Mr. Nuss introduced Kapoor to us without due due diligences and verifications, Kapoor introduced Blyth Metals India, we informed Blyth Metals is already our client and they threated us by starting world defamation if they does not get ilegal overprice of usd 32/Mt with his partner Dan McComb from Australia!!! for the deal with Blyth Metals Inc.

We showed and proof Blyth was already our client, buyer and he start defamation using Amer Al Azem`s forums, Linkedin and then internet extorsive webs to try to damage us.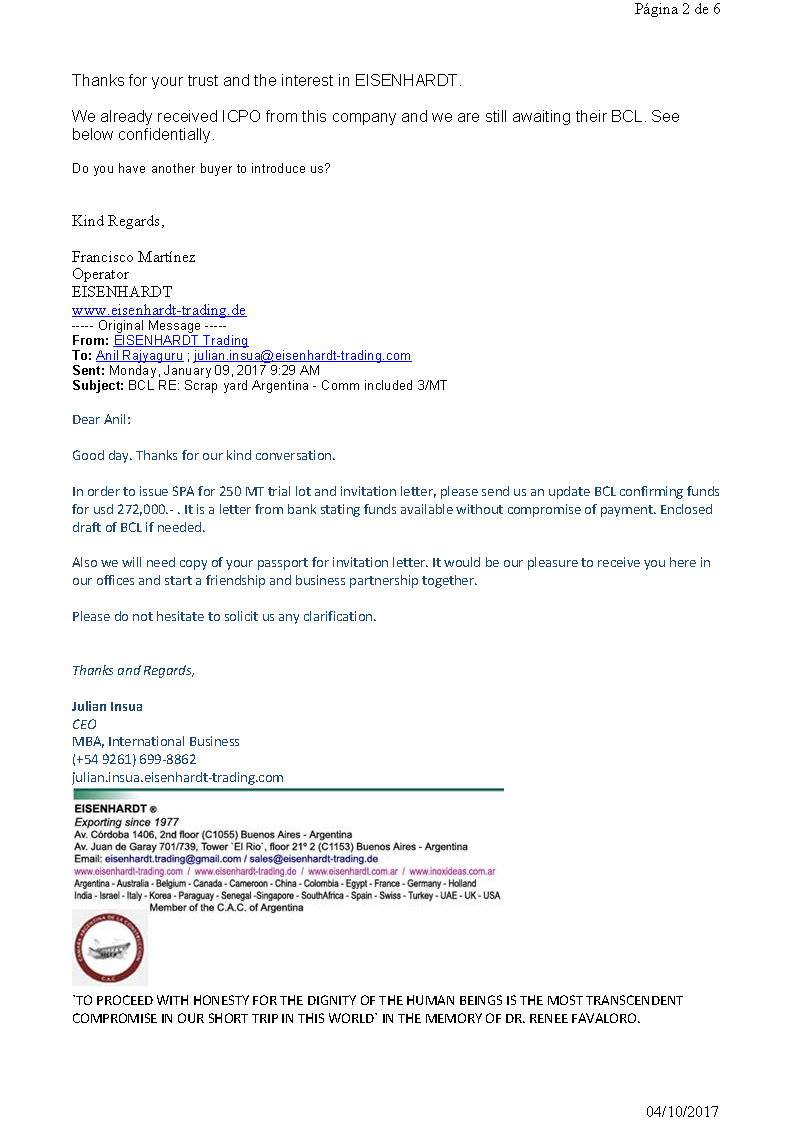 They also claimed to have 16 warehouses and to be 51% shareholder of Vietnam factories but they never sent any proof / credential either.

Criminal SAM KAPOOR asked and forced us to accept usd 32/Mt !!! Thiry Two per MT!!! ilegal overprice which was obviously denied by us.

  Skyintertrade LIES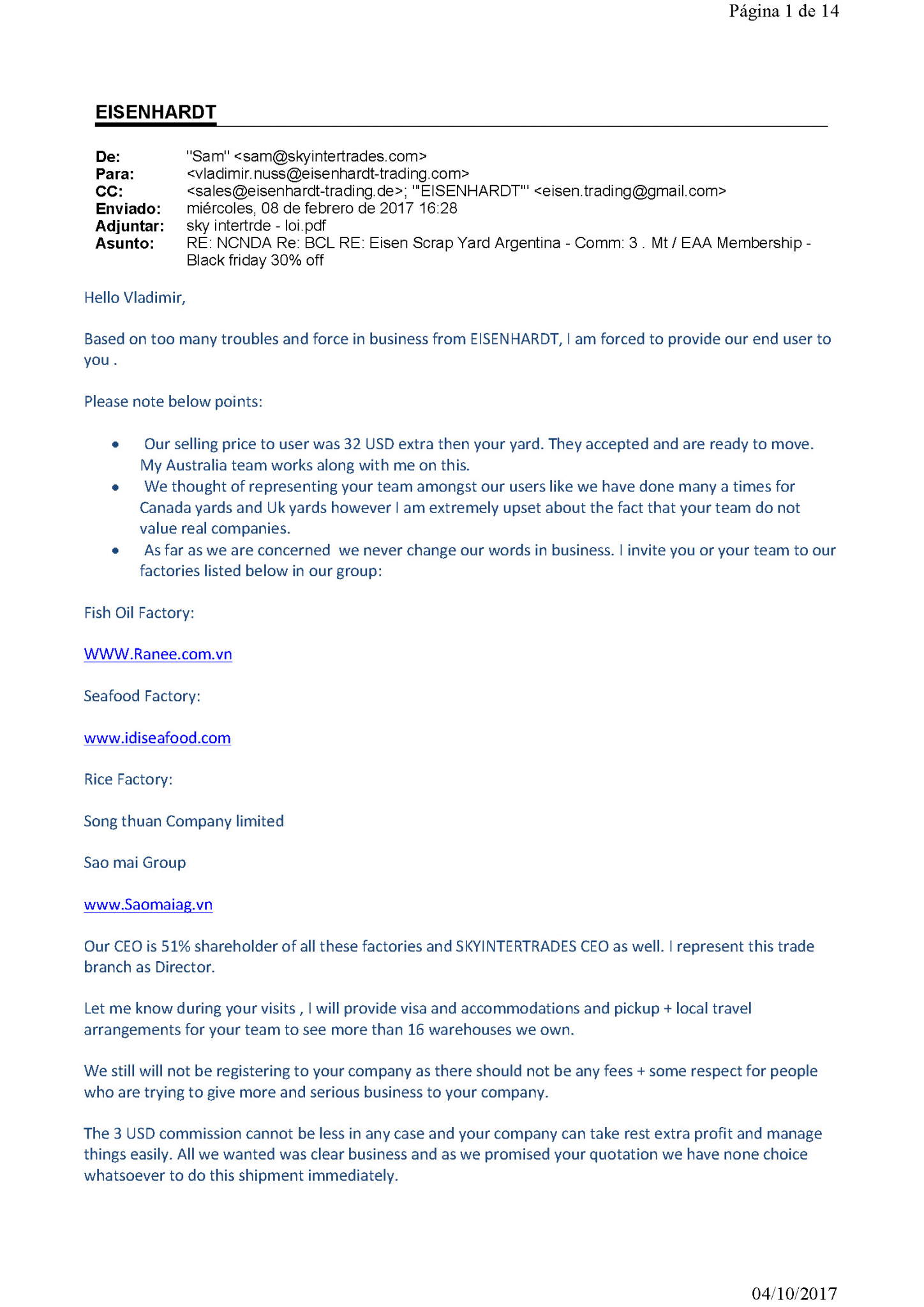 Skyintertrades , Kapoor  is or was part of Amer Al Azem`s internet forums and used forums to make false offers and then defamate us once we discovered faked BL from them. They started bad intentioned defamations on internet looking for promotion. Of course he NEVER show proofs of his accusations because are TOTALLY FALSES and never perform legally because they are criminals.

Below is original email and enclosed faked BL received from these criminals:

  FALSIFIED Bill of Lading original email        
<![if !vml]>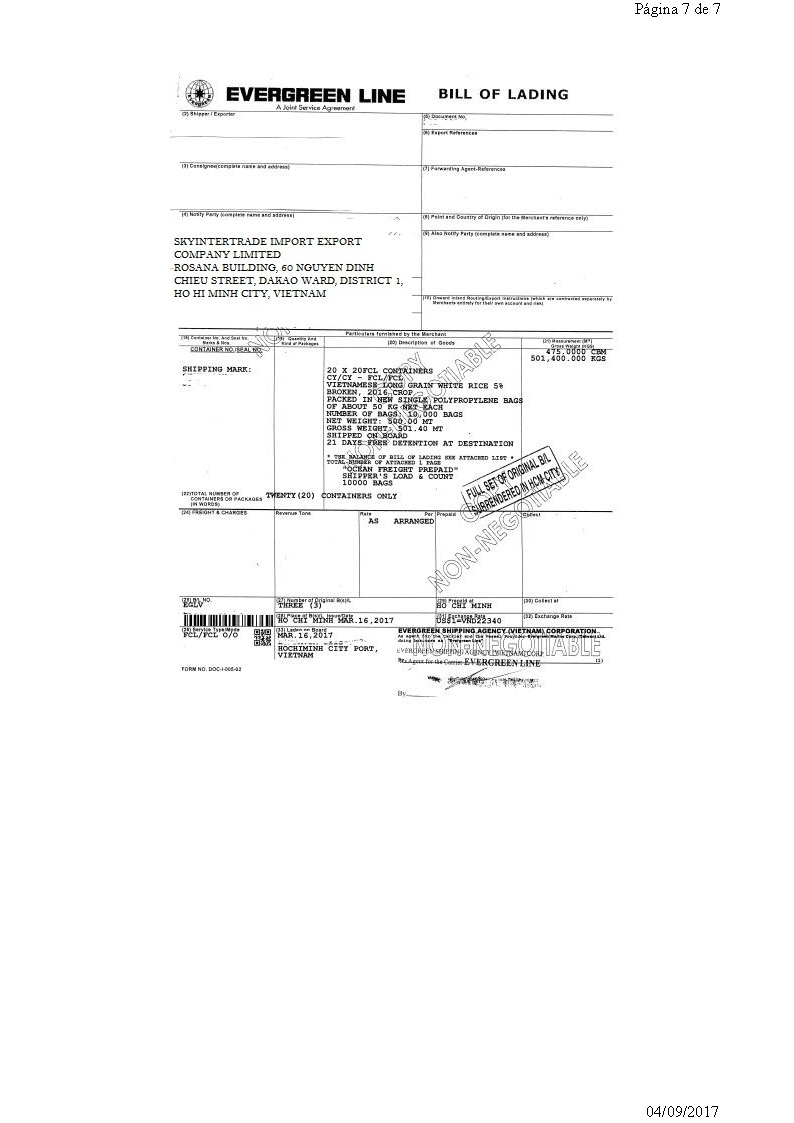 <![endif]>
This was already reported to Evergreen Argentina, Germany and Vietnam.

  Faked BL skyintertrade reported to Evergreen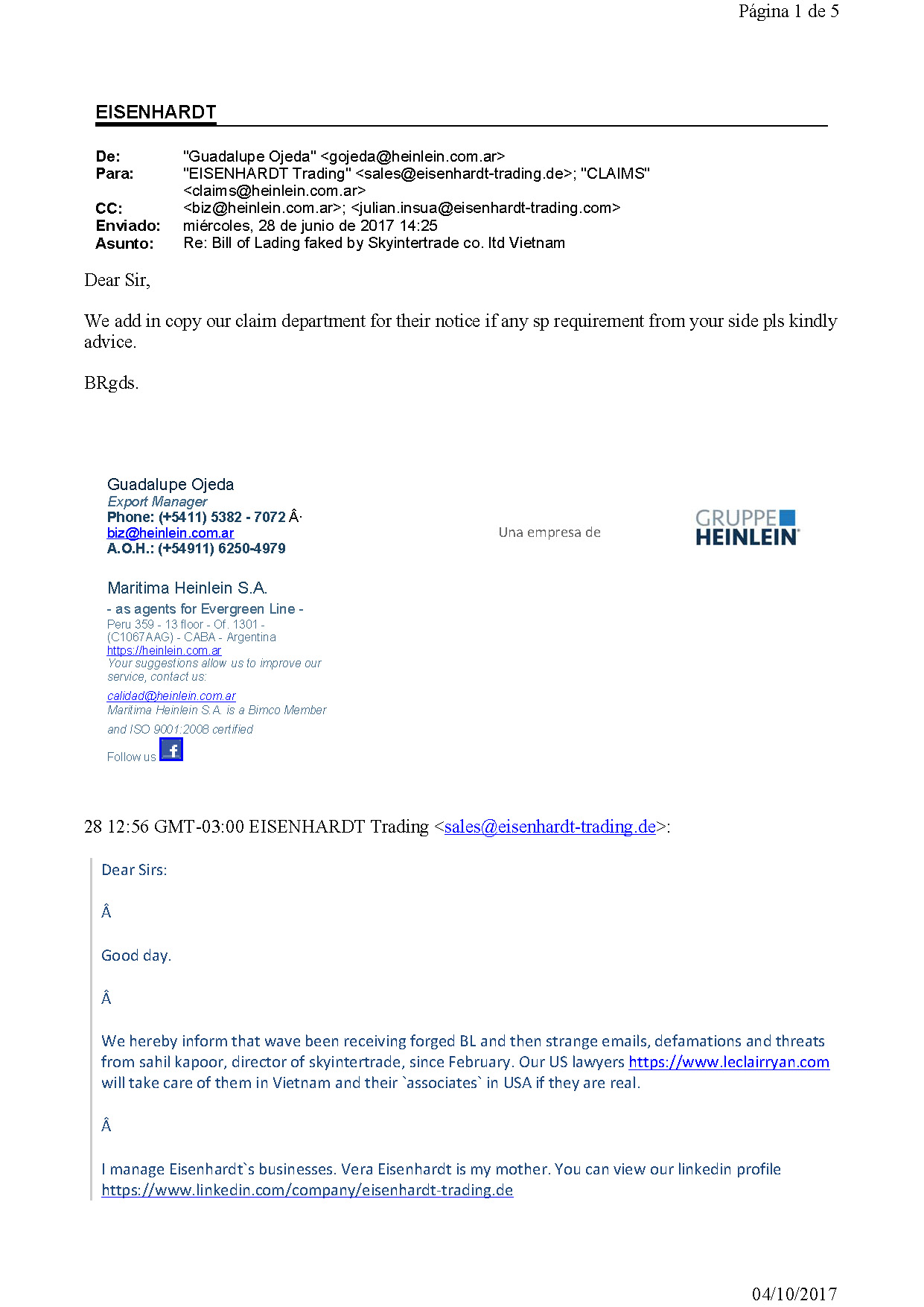 <![if !supportLineBreakNewLine]>
<![endif]>
Our company, trade mark, awards, all our members, references and good names are real and verifiable online.

We invite anyone to ask Zafer Sarsar president@turksoil.com and EX EAA Germany Mr. Vladimir Nuss vladimir.nuss@vipworldservice.com about Skyintertrades / Skyintertrade Sahil Kapoor criminal actions.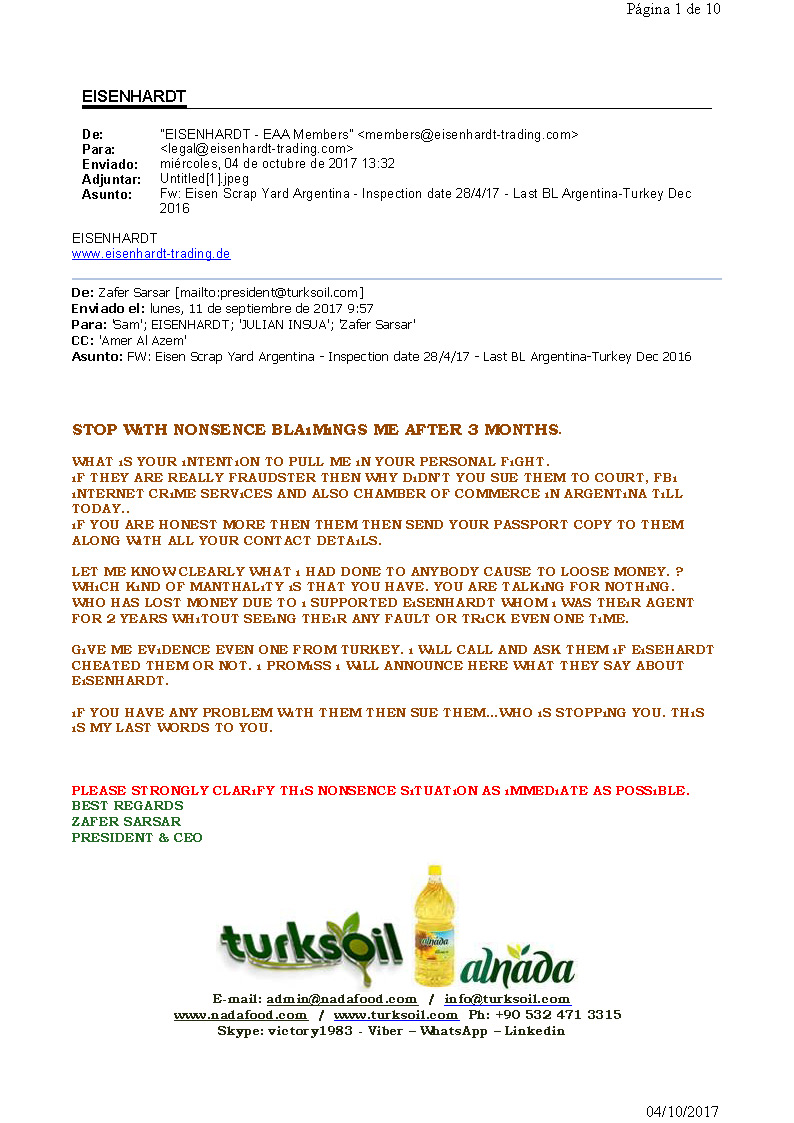 <![if !supportLineBreakNewLine]>
<![endif]>
We want to resolve this case legally.
It will be JUSTICE.
***
EISENHARDT is proud to share with you our recent updates and achievements:
To know more about EISENHARDT www.eisenhardt-trading.de , we kindly invite you to visit us at:

<![if !supportLineBreakNewLine]>
<![endif]>